The Libraries are pleased to announce a generous gift by Dr. Rosalyn M. Laudati to name a Reading Room in the Science Library. At a dedication ceremony on October 21, the room was officially named The Hector D. and Edythe M. Laudati Reading Room, in honor of Dr. Laudati's parents. The gift will provide support to enhance the Science Library and the excellence of its collections and resources.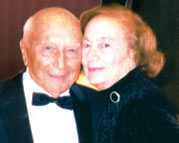 Hector & Edythe Laudati
"I am very happy to support the UCI Libraries and name this reading room," said Ms. Laudati. "The Libraries are essential to the intellectual life of the campus, and their collections and services play an integral role in the impressive research and education taking place at UCI. My husband and I have used the Science Library extensively for our own educational pursuits and we have been impressed with the quality of materials available and our interactions with their librarians."
Dr. Laudati and her husband, James B. Pick, have been supporters of UCI since 1974. Rosalyn is a psychologist in private practice in the local area. She received her Ph.D. in 1976 from the University of Iowa. Dr. Pick received his Ph.D. from UCI's School of Biological Sciences in 1974, and now is a professor in the University of Redlands' School of Business. The couple resides in Corona del Mar, California and actively participate in and support cultural institutions in the community and UCI. Dr. Laudati's parents, Hector and Edythe Laudati, reside in Rhode Island and Florida.
"All of us here at the library are very grateful for Rosalyn's support," said University Librarian Gerry Munoff, "and excited about naming our first space in the Science Library. I am pleased that Rosalyn's commitment to the Libraries and our mission will be recognized for many years to come by the students, faculty, and community members who use this room for their research and study.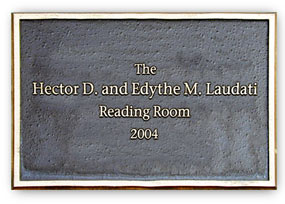 Located on the fourth floor of the Science Library overlooking Steinhaus and McGaugh Halls, the room is a well-used space by students featuring spectacular views of the campus. The commonly used name for the room will be the Laudati Reading Room.
The UCI Science Library opened in 1994, and is an award-winning building designed by the architectural firm of James Stirling, Michael Wilford and Associates. It is one of the largest consolidated science, technology and medicine libraries in the nation, supporting the schools of biological sciences, engineering, information and computer science, physical sciences and medicine.