The Libraries are pleased to announce a generous gift of $150,000 by the Ralph W. & Leona B. Gerard Family Trust to name a Reading Room in the Science Library in honor of Dr. Ralph W. Gerard, one of UCI's founding Deans. The gift establishes the Ralph W. Gerard Library Endowed Fund which will provide permanent general support to maintain and enhance the excellence of the Libraries' collections, services, and facilities.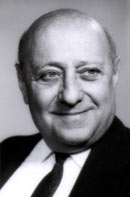 1970s photo of Ralph W. Gerard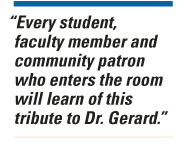 The room will officially be named the Ralph W. Gerard Reading Room. "We are grateful for this generous support from the Gerard Family Trust, and are pleased to name a reading room for such an accomplished academician in a facility that attracts and serves scholars from across campus and the area," said University Librarian Gerry Munoff. "Every student, faculty member and community patron who enters the room will learn of this tribute to Dr. Gerard's scholarship and his devoted service to the university."
Ralph Waldo Gerard was a neurophysiologist, behavioral scientist, and academic known for his wide-ranging work on the nervous system, nerve metabolism, psychopharmacology, and biological bases of schizophrenia. Born in 1900, he studied chemistry and physiology in Chicago and then became a professor at the University of Chicago, the University of Illinois, and the University of Michigan. At the pinnacle of his career, he served as Professor of Biological Sciences and Founding Dean of the Graduate Division at the University of California, Irvine from 1964 to 1970. He died in 1974.
"We are very pleased to support the UCI Libraries and name this reading room," said Patricia Foster, the trustee of the family trust. "The prominence of the Science Library makes it ideal for honoring Dr. Gerard's life and his dedication to scholarship and learning at UCI. He felt a deep affinity for the Libraries and understood the vital role they play in the impressive research and education taking place at UCI."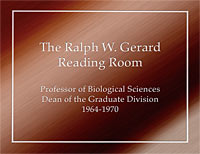 Located on the 5th floor of the Science Library overlooking the School of Biological Sciences where Dr. Gerard served, the Gerard Reading Room is a popular space for students and features spectacular views of the campus.
The UCI Science Library opened in 1994 and is one of the largest consolidated science, technology and medicine libraries in the region, supporting the schools of biological sciences, engineering, information and computer science, physical sciences, and the College of Medicine.