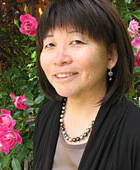 Lorelei Tanji
Lorelei Tanji
Interim University Librarian
ltanji@uci.edu
The UCI Libraries are partnering with several campus units on a number of important space projects that contribute to campus goals and priorities while enhancing the Libraries' role as the academic center of the campus.
The first partnership involves an exciting collaboration with the Division of Undergraduate Education to open a campus-wide Writing Center in Science Library in the fall 2012. A library is an ideal place to house a Writing Center. Writing assignments often require the utilization of library collections in conjunction with discovery tools and other technology, and Writing Center faculty currently work closely with library staff on writing studies research. The Writing Center will be in a prominent place on the ground floor of Science Library. This convenient location will provide easy access for students who seek its resources and who need study space. The Center will provide critical support for writing and communication across disciplines and will enhance the Libraries' role as the "educational hub" for student learning and research on campus.
The second partnership resulted in the successful launch of a new center for Student Outreach and Retention (SOAR) in the ground floor of the Libraries Gateway Study Center in October 2011. The SOAR Center's efforts to support student outreach and retention parallel the Libraries' efforts to provide life-long learning and research skills to students that position them for success in their studies at UCI and their future careers.
A third partnership involves utilizing library space to bring UCI staff back to campus, helping eliminate an expensive off-campus lease that helps the campus address budget challenges. During spring 2012, a portion of the 6th floor of the Science Library will be converted for use by the Office of Information Technology (OIT). OIT and the UCI Libraries have been long-time partners and collaborated on a variety of projects. We share common interests in keeping abreast of the latest technologies and exploring various applications in support of higher education.
We know that the Libraries are an important and highly valued location for student study, and are committed to providing individual and group study spaces while accommodating these new units. A variety of solutions are being implemented to ensure adequate study spaces are retained, including relocating some collections on the 6th floor to other areas within the building, and withdrawing some print materials, particularly where we provide access to the items in a digital form.
We have created a project website to keep our campus and community users informed as details, timelines, and more news emerge. For more information, please contact Kevin Ruminson at 949.824.4440. or ruminson@uci.edu.

Warm Regards,
Lorelei Tanji
Interim University Librarian