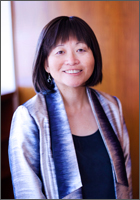 Lorelei Tanji
We are delighted to announce the appointment of Lorelei Tanji as University Librarian, effective October 1, 2012. As interim university librarian since April 2011, Tanji has made significant strides in advancing the mission of the UCI Libraries. To read Chancellor Michael Drake's full announcement to the UCI community, please click here.
In this issue, Ms. Tanji continues her regular column, From the University Librarian, which is featured in each edition of our Supporters & Friends E-Newsletter.

From the University Librarian
Donors Make a Difference

As University Librarian, I look forward to working with our talented library staff to continue our efforts to build a 21st Century Research Library for our students, faculty and community members.
In this issue are a number of articles that highlight the impact of private support on the excellence of the Libraries. In particular, we present our 2011-12 Honor Roll of Donors, and a recap of the celebration of the Caroline A. Laudati Conference Room dedication. Also included are articles on how donors have made a significant impact on our special collections and archives, and enhanced access to them for scholarly research.
I encourage you to take a few minutes to read this edition to learn more about how the UCI Libraries is an active participant in the lifecycle of learning and knowledge at UCI. Please visit our Supporters and Friends website to learn how you can make a difference.
Whether it is in support of our collections, services, facilities, staff, or public programs, the Libraries greatly appreciates the support of our hundreds of donors who understand the importance of the Libraries as the foundation of UCI's innovative research and education.
Thank you for your ongoing interest as we transform the Libraries into 21st century learning centers, while sustaining our role as the cultural heart of the campus and community.
Warm Regards,
Lorelei Tanji
University Librarian
ltanji@uci.edu