Ray Watson Gift Enhances Regional History Collections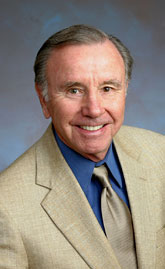 Ray Watson
The Libraries are pleased to announce a generous gift by Ray Watson to support the preservation and growth of the Libraries' collections on the planning and development of the City of Irvine, the UCI campus, and surrounding communities in Orange County. In addition to donating his professional and personal papers, Watson also established the Raymond L. Watson Library Fund to help make UC Irvine's regional history collections accessible to researchers from around the world.
"I am very pleased to support the UCI Libraries and their critical role in documenting our local history," said Watson. "The vision and planning behind the development of Irvine and the UCI campus is quite unique and it is important that it be preserved for students and researchers in perpetuity. I am glad to be involved in this important effort to build this collection and encourage others to do the same."
As chief planner for The Irvine Company starting in the 1960s, Raymond L. Watson was instrumental in the development of the Irvine Ranch and the City of Irvine. Under his guidance, the City of Irvine became a nationally recognized model for a planned community. Watson was also a key figure in The Irvine Company's collaboration with the University of California to envision, plan, and implement the new UC campus at Irvine. His passion to document and preserve this history is reflected in the papers he donated to the Libraries.
"We are truly grateful for Mr. Watson's support," said Michelle Light, Acting Head of Special Collections and Archives, "as it will provide critical funding to hire a professional archivist to organize and preserve the materials. This also will enable us to pursue more actively the acquisition of new materials on the growth and development of Orange County." Special Collections and Archives will also digitize select materials so they are available online to scholars studying the unique development of our region.
One of the Libraries' highest priorities is to build premier Special Collections that are reflective of UCI's unique geographical setting and institutional history. The Libraries' existing archival materials cover regional and university history, and include the recent donation of the Watson papers, papers of UC Irvine's former chancellors and many founding faculty, the Don Meadows papers on Orange County history, and many others. For more information, see http://special.lib.uci.edu/collections/.
To make a gift in support of the Raymond L. Watson Library Fund for Regional History, please click here or contact Julie Sully, Interim Director of Development, at 949.824.4658 or jsully@uci.edu.