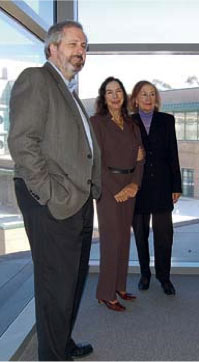 Rosalyn Laudati and her mother Edythe
Laudati in the Laudati Reading Room
with Gerry Munoff in the Science Library.
The Libraries are pleased to announce two major gifts from Dr. Rosalyn Laudati, in support of the campus libraries at UC Irvine.
A significant gift to the UCI Libraries will create the Hector D. Laudati and Caroline A. Laudati Library Endowed Fund in memory of the donor's late father and aunt. The Laudati Endowed Fund will provide unrestricted support for the Libraries at the University Librarian's discretion.
A second major gift will name a library space in memory of Hector D. Laudati, Esq. The space to be named may be in the Law Library of the Donald Bren School of Law or the UCI Libraries.
Dr. Laudati is a psychologist in private practice in the local area, and received her Ph.D in 1976 from the University of Iowa. She has been a supporter of UCI since 1984. Her father, Hector Laudati, practiced law in Providence, Rhode Island, for 60 years, and served on the Providence City Council for eight terms. Dr. Laudati's aunt, Caroline Laudati, was an educator and principal in the Providence school system for 46 years.
"These generous gifts reaffirm her commitment to building libraries of excellence at UCI...""I am pleased to make these gifts to the UCI campus libraries and support the critical role they play on the campus and in the community" said Dr. Laudati. "It is an honor to recognize my father and aunt, both of whom believed in the value of education and libraries, and were role models to me from a very young age. It means very much to me to honor their commitment to education and learning throughout my life."
"Dr. Rosalyn Laudati is a true friend of the UCI Libraries," said University Librarian Gerry Munoff. These generous gifts reaffirm her commitment to building libraries of excellence at UCI, and will provide a continuing source of funds to support student and faculty research for years to come. Rosalyn has a deep appreciation for scholarship and education, and is a role model for the advancement of art and education in the community."